Automatic people weighing scales Body-Weight
Body-Weight scales manufactured in Italy by DPS-Promatic are robust and reliable people weighing-machines. They have a strong steel bottom part and platform, that ensures the stability of the machine and an accurate weight up to 200 Kg, with 100 g accuracy. They have different designs and specifications to meet the needs of our customers.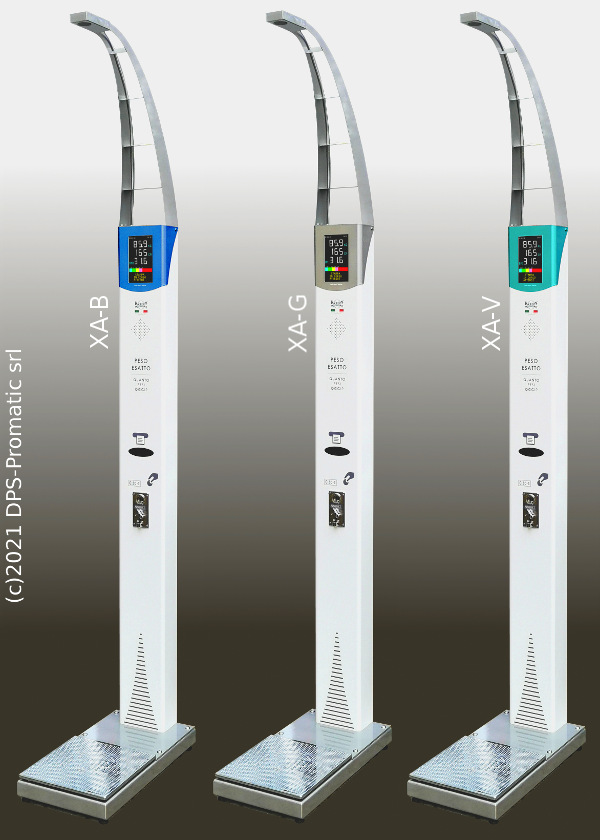 BWS-XA professional coin-operated people weighing scale with colour display
Body Weight Style XA has a beautiful color display, a new attractive ultrasonic height meter. It prints a ticket that includes weight, height, pharmacy name, Body Mass Index and weight assessment according to the WHO suggestions. It includes a motorized cutter to prevent any possible paper jam. Ideal for shopping centers and pharmacies, this hi-tech looking scale is made of steel and is very robust.

It weighs from 5 to 200 Kg in steps of 100 g
Display a colori 800x480
Measures height from 100 to 200 cm in steps of 1 cm
Prints a ticket on thermal paper with measured data and BMI. It cuts the ticket automatically.
Electronic coin acceptor. We can set the scale to accept any type of coin, upon request.
Can print Horoscope, if requested as an option.
Dimensions: cm: 33 (W) x 65 (D) x 236 (H)

Weight: 45 Kg

Power: 230V - 35VA
---
Ticket examples
Body-Weight scales print a ticket on thermal paper that includes measured weight and height and Body Mass Index (BMI) with an explanation of it. It is possible to print the name and address of the pharmacy as well as include a graphic logo, in its place. BWS-XA coin-operated people weighing scales are available in many languages, including arabic, greek, turkish and chinese.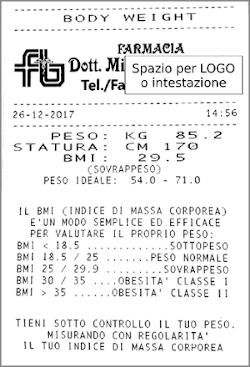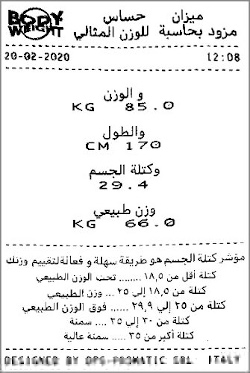 ---
New!: BWS 4.0, the scale with NFC card activation and cloud connection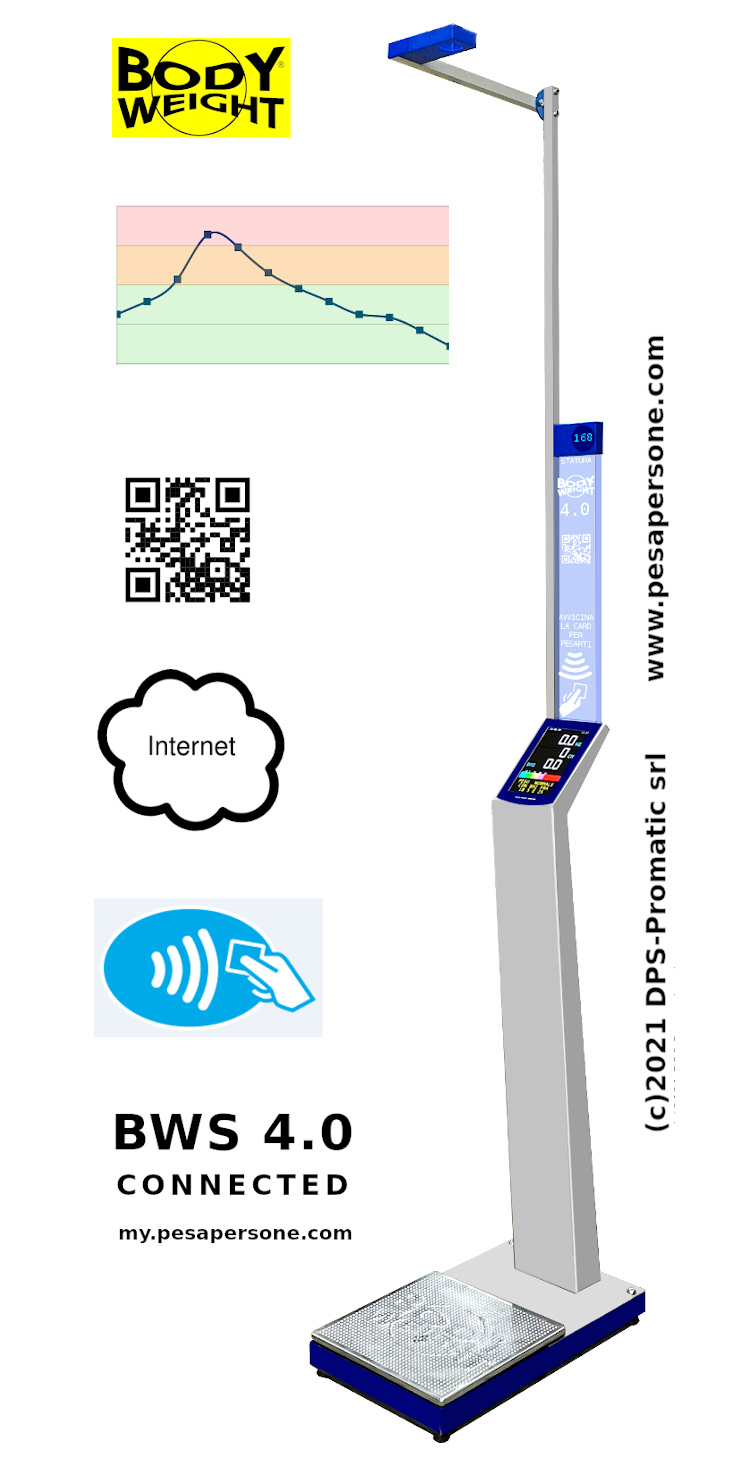 BWS 4.0
Jump into the future with BWS 4.0, the internet connected scale with NFC card activation

How does BWS 4.0 works, in its various versions
BWS-4.0-NCC works in free vend, no NFC card, no cloud connection
BWS 4.0 NCC is very simple: just step on it and read weight, height and BMI. Nothing to pay, no printout available.
BWS-4.0-CARD
BWS 4.0 CARD weighs upon activation by means of NFC card. The card can be given as a fidelity gift or can be a prepaid type.
BWS-4.0-CARD+CLOUD
The most complete version, is activated by means of NFC card, with a unique code. Customer can then access the web site my.pesapersone.com, to see his/her data in an anonymous way.
Check the type of data on my.pesapersone.com and clic on DEMO.
Weighs 200Kg in 100g steps.
Highly visible colour TFT display, 7 inches (150x90).
Ultrasonic height meter, measures up to 200 cm
No printer, not needed.
Dimensions: cm: 33 (L) x 55 (P) x 236 (A)

Weight: 30 Kg

Power supply: 100-240V 20VA
---
See below some of our scales, no longer in constant production, for which we provide service.
For these discontinued scales minimum order is 10 pcs
Body-Weight PRECISA
The weighing-scale Body Weight Precisa is available in 3 versions:
BWP-A (free weight, no coin acceptor)
BWP-C (with coin acceptor)
BGW Baggage-Weight, expecially deisgned to weigh luggage in hotels and airports
Robust, with an heavy base, to enhance stability
Technical specifictions:
Weighs up to 200Kg with 100g division
Attractive blue display (128x64 pixels)
available with or without coin acceptor
Dimensions in cm: 33(W) x 65(D) x 100(H)

Weight: 35 Kg

Power: 230V - 35VA
---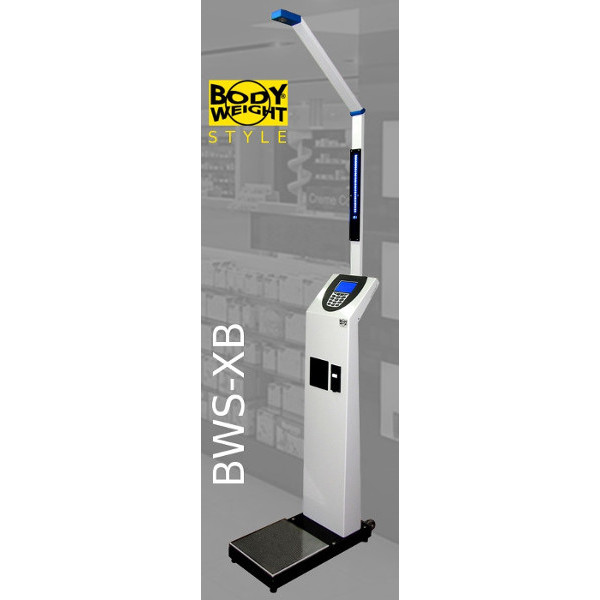 BWS-XB
Body-Weight Style XB has been sold in thousands worldwide, no longer in constant production, we manufacture them for orders of 10 pcs minimum.
It weighs from 5 to 200 Kg in steps of 100 g
Blue display(240x128 pixels)
Measures height from 100 to 200 cm in steps of 1 cm
Prints a ticket on thermal paper with measured data and BMI. It cuts the ticket automatically.
Electronic coin acceptor. We can set the scale to accept any type of coin, upon request.
Can print Horoscope, if requested as an option.
Dimensions: cm: 33 (L) x 65 (P) x 236 (A)

Weight: 40 Kg

Power: 230V 35VA
---