Coin-operated luggage weighing-machines
BGW-XB is the coin-operated luggage scale ideal for providing a service to travellers to avoid high costs for excess baggage weight. BGW-XC and other models made on request, are kind of more sophisticated, whit colour displays, touch screen, internet connection, printer, payment by credit card.
They are ideally located in hotels near the airports or used by groups traveling on low-cost airlines. At DPS-Promatic srl we have been manufacturing coin-operated scales since 1985. If you are looking for coin-operated people weighing scales take a look at our Body-Weight machines.
---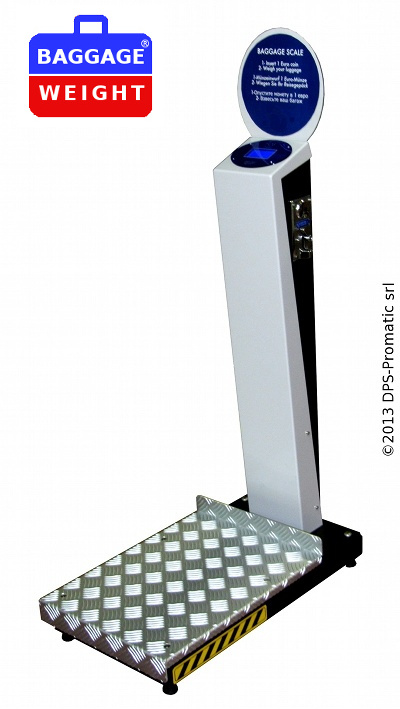 BGW-XB: the baggage scale
Tehnical specifications
Made of steel, not plastic.
Stable: it itself weighs 33 Kg
Weighing range: 0,5 Kg - 180 Kg
It can be programmed to weigh in various modes and for different prices.
Easy to use
Easy to calbrate
Dimensions in cm: 33(W)x50(D)x92(H)
Weight: 33 Kg
Power supply: 110-230V 50/60 Hz 20VA
---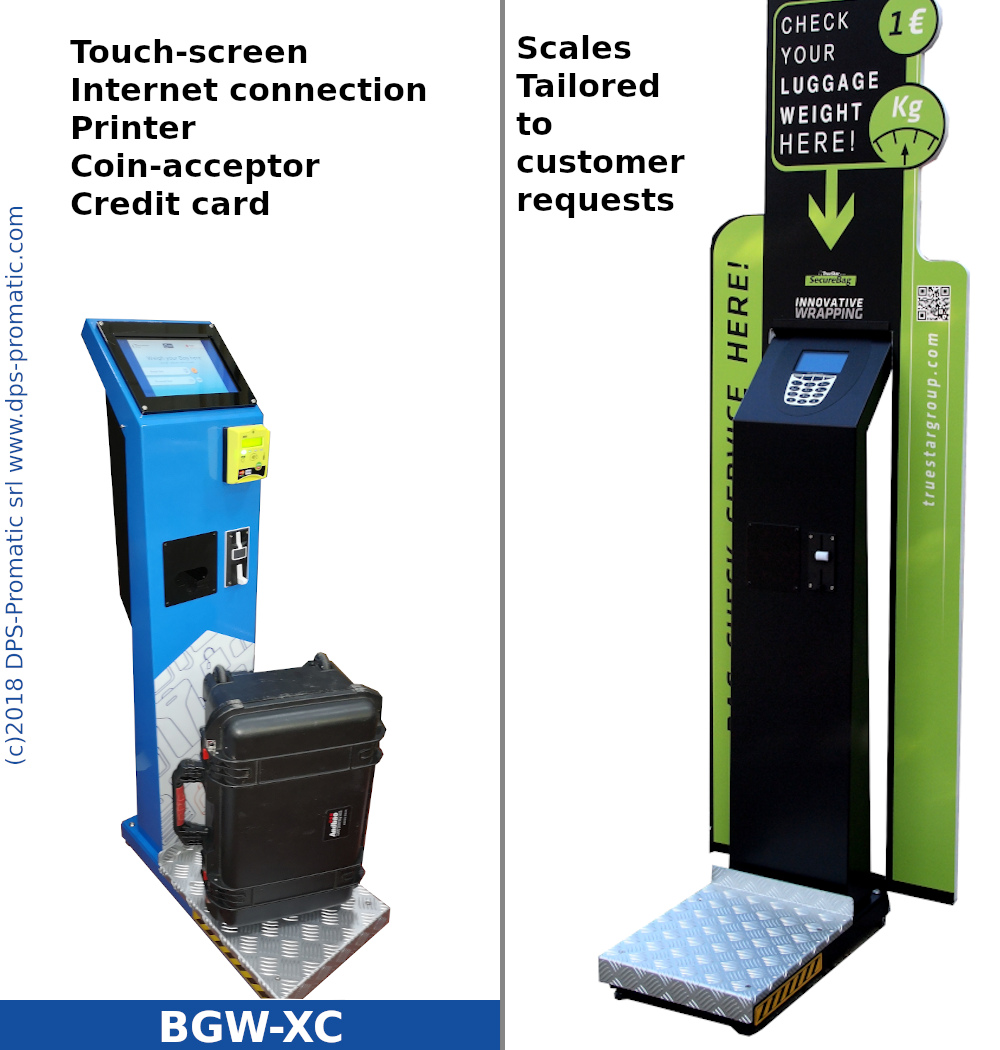 Special scales made according to customer requests
We have made special machines to suite our customer needs for customers like Excess Baggage, A&O Hotels, Safe Bag, True Star, Samsonite, Alitalia and more. We can produce machines with touch screen, credit card operation, internet connection printer and more.
---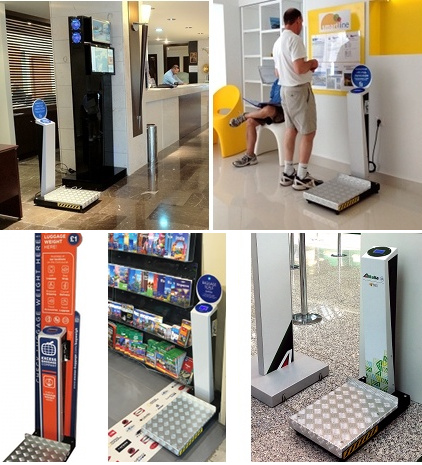 Coin-op Luggage scales for lease, rent or sell
Nowadays airlines offer cheap tickets but then make every effort to recover the money by charging even 10 or 20 Euro per Kg to those who exceed the weight allowed. For this reason it is essential to have the opportunity to weigh your luggage before going to the airport. The ideal placement for this scale is in the hotel, so you can pack your bags at your leisure before heading to the airport. This service also allows you to avoid delays and unpleasant discussions at the airport check-in. The coin weighs Storage BGW-XB can be programmed to operate with a coin, for example, 1 Euro, weighing only once, or (better) is possible to program it so that with this amount continues to weigh in for a number of seconds programmable from 1 to 90. It is a sturdy product that can provide years of trouble-free service.
We manufacture these machines in Italy, we sell them for a single piece or for quantities we rent them for a percentage of the income or we lease them for a monthly amount.
---
---