Amusement machines FAQs
Amusement Machines Miscellanea
Links to companies that we like: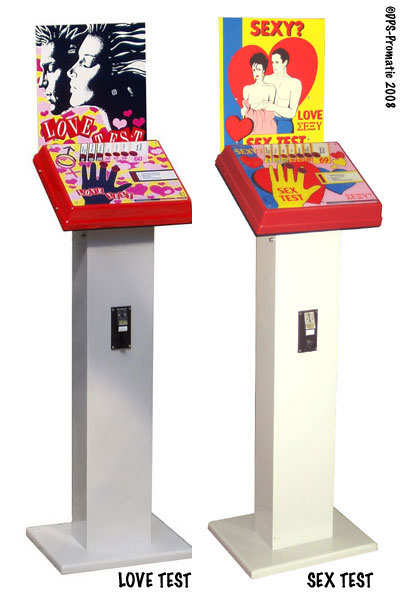 The LOVE TEST and the SEX TEST

This very simple machine is extremely popular because it gives a score regarding LOVE and SEX capability, as follows:

0=Dead Fish
10=Old Fashioned
20=Warm
30=Sensual
40=Passionate
50=Hot Stuff
60=Wicked
Customer inserts coin and puts left hand on panel, result lights up in 5 seconds. This amusement machine is very popular with groups of friends, expecially girls, that enjoy having fun and joking with each other about the score.
Custom versions with special front panels are available on request.


Dimensions:
cm: 40x35x120 (add 35 cm height for the back panel)
Ft and In: 1'4"x1'2"x4' (add 1'2" for the back panel)
Weight: 20 Kg (44 Lb)

VIDEO