Amusement machines FAQs
Amusement Machines Miscellanea
Links to companies that we like: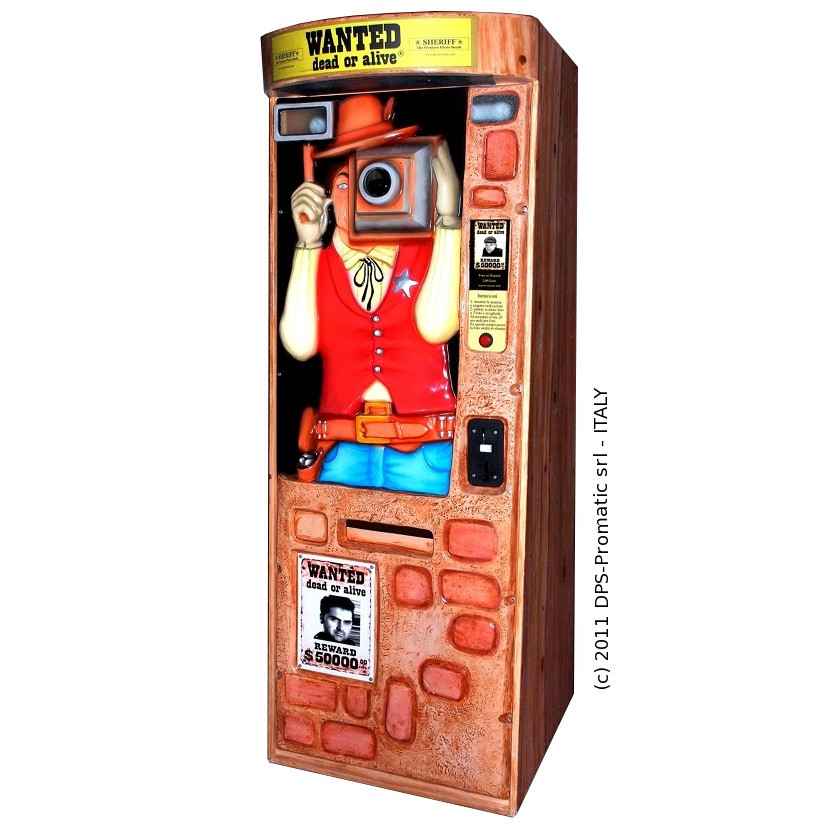 Your photo on a Wanted poster

DPS-Promatic manufactures amusement photo systems since 1981, when the company was still called Digital Portrait Systems.
That was our main business until 1985 and we sold hundreds of Computer Portrait Systems worldwide.
At that time the machine was a digitizing device (not so easy to do in the early 80ties) that would capture a customer portrait with a camera and then print it out on a Poster or T-Shirt.
We now produce mainly automatic systems.
The 2 machines we make have the following characteristics:
The Sheriff Photographer is the best small size option to print a Wanted Poster. Customer stands in front of the unit, inserts coin or bill and presses the button. The machine will play a western theme music and shoot (actually with a gun shooting sound) a picture, that will be printed in black and white on a paper size A4 (1' x 8"). The poster has a pre-printed Wanted background, in colors. The cost of this printed poster, including the printer toner is less than 10 cents.

The sheriff photo booth, made of wood, is a bigger and more expensive version of the same machine.



Dimensions:
cm: 60x60x180 (2'x2'x6')
Weight: 56 Kg (123 Lb)